"Modern, dynamic and interactive" are the words our new librarians Antoine and Tack have chosen to describe Alliance Francaise Bangkok's new media library. Pending the opening on 27 July, they tell you more about the novelties of the media library in an energizing interview!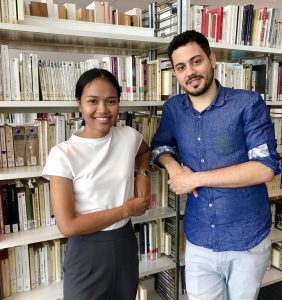 What will be the major novelties in the new media library?
To answer this question while keeping some surprises for the opening on July 27, we can say that there will be improvements for each space of the media library with for example a video games corner for teenagers, a lounge area to read the press and to watch television, and a cyber-café.
What will be the place of digital / multimedia?
We want to modernize the library with digital tools such as tablets, e-books or online platforms to watch movies or listen to music.
How will the new media library be more interactive?
To make this beautiful, very spacious and very bright space live, thematic animations and surprises will be set up so that each month our members can discover a different media library!
What words would you use to describe the new media library?
"Modern, dynamic and interactive"
Will there be new activities?
Yes! We are planning activities for adults such as a book club and a conversation club, in addition to the regular activities for children.
What will be the place for the students who are learning French?
A specific space will be reserved for learners offering resources (books, dvd, cd, audio book …) classified by level to guide them in their learning of French. This space will evolve each month according to the news and the theme of the moment.
Will there be events?
We will continue to host conferences, writers and artists. And many more surprises, to discover from 27 July!