Alliance Française Bangkok Gala Dinner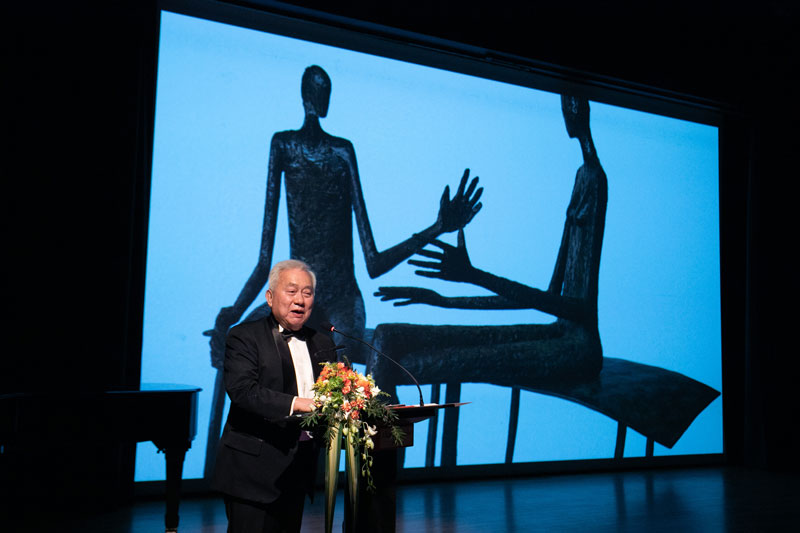 On October 18, 2019, Alliance Française Bangkok organised a Gala dinner to celebrate the first anniversary of the official inauguration of its new building by the Princess Maha Chakri Sirindhorn. The other aim of this event was to collect funds to purchase Attraction II, a sculpture by French artist Val who passed away 3 years ago, located in front of Alliance's new building.
ACKNOWLEDGEMENTS
Thanks to our generous donors, to the silent auction and to our sponsors, we were able to collect enough funds and we are proud to announce that, from now on, Attraction II officially belongs to Alliance Française Bangkok.
Table donors
Conseillers du commerce extérieur (CCE)
Dextra
Loxley
Michelin Siam
Muang Thai Insurance
One Bangkok
SPIE Oil & Gas
Subhashok Gallery
Watt Chirativat
Individual donors
MM. Robert & Louis Bougrain-Dubourg
S.E. Mme Hélène Budliger Artieda & M. Alex Artieda della Sotta
M. & Mme Jaffre
S.E. M. Philippe Kridelka
S.E. M. Jacques Lapouge
Mme Louise Senninger
M. & Mme. Sodsoon
Decathlon
Sponsors and partners
Blue Elephant
Café Mademoiselle
Duc de Praslin
Le Cordon Bleu Dusit
Pullman Hotels and Resorts
Scarlett Wine Bar & Restaurant
ThaiBev
Thailand Tatler
***
Author's note:
Discover or rediscover Val, through the exhibition "All of Val in 9 artworks".
The exhibition tells Val's creative journey through nine emblematic sculptures and express the themes that have been at the heart of her vision: human attitudes, verticality, visual rhythm of full and empty spaces, human beings and their environment, the couple and love.
At Alliance Française Bangkok
Until 12/10/2019
Free access