Bloco Malagasy in concert last March 20!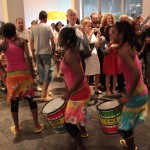 For the International Day of Francophonie, Alliance Française Bangkok and the Madagascar consulate organised a concert with the malagasy band Bloco Malagasy, on tour in Asia.
Cette soirée gratuite était l'occasion rêvée de venir dîner et boire dans les jardins de l'Alliance, de profiter d'une soirée en extérieur et de découvrir l'artisanat traditionnel malgache, au son des rythmes entraînants des Bloco Malagasy.
This free event was the occasion de enjoy the gardens of Alliance Française, and to discover Malagasy traditional crafts, listening to the drums and beats of Bloco Malagasy.
Discover here ici Bloco Malagasy in Concert on March 20, 2014 at Alliance Française!