European Languages Café 2017: the European Union in Bangkok!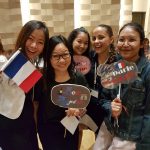 Beautiful moments of sharing between EU countries and Thai students for this new edition of European Languages Café held at Goethe Institute on February 28th 2017 ! 
Through many funny activities, the 180 people who have joined the event made new friends while enhancing their language skills! At the end of this friendly afternoon, the participants enjoyed the open-air film screening of German comedy film "Fack ju Göhte 2", as well as a delicious German and Swiss specialities buffet!

Thanks to Guilaine and Matthieu, our young and dynamic teachers, for representing French language and Alliance Française, but also to the students for taking pleasure in participating in our various french games. Congratulations to everyone and thanks again for making this afternoon a memorable one!
See you in few months for the next European Languages Café!