Exhibition: Bangkok mon amour by Virginie Broquet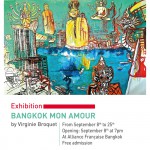 From 8th to 25th of September, Virginie Broquet exhibited "Bangkok Mon Amour" at Alliance Française Bangkok.
For the opening, the artist presented her new book "Suzy Wong and the Spirits" and gave a signing session. French artist born in Nice in Southern France, Virginie Broquet travels, draws, observes the world.
From New York City to Tokyo, Saint-Louis city in Senegal to Shanghai, she paints real life, people's lives. Those instants of life reflect her curiosity about near and far and about others, with each image, like a scene, becoming an adventure!
Out of her travel journals of Thailand and Asia have come out large paintings done in mixed media and exhibited during this exceptional exhibition.