Exhibition "In angels' jungle"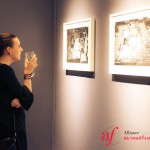 "In angels' jungle" is an "in situ" creation, bringing together the contemporary and metaphorical structures of mixed-media artist Rush Pleansuk and the photographic wanderings of Philippe Moisan.
Building on this exchange achieved on physical, spiritual and temporal levels amidst the chaos of this new, large city, "Dans la jungle des anges" transports us into a wandering tale fed by time and spirits.
This exhibition is produced by Alliance Française as part of La Fête cultural festival, organized by the French Embassy in Thailand.