Exhibition " Look Khun Noo : BF4L" by Charinthorn Rachurutchata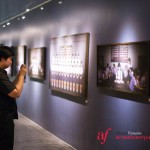 Exhibition organized in partnership with Thaillywood artist residency.
Coming from the artist's personal experience, Charinthorn Rachurutchata's latest work brings us into the world of inconceivable events that shadow the life of an adolescent school girl.
The name of the exhibition is a mix of Thai words, Look Khun Noo, meaning a privileged kidand teenage slang, BF4L (Best Friends for Life).
Charinthorn's Look Khun Noo series revolves around the story of a girl growing up. As the previous series dealt with family problems and ignorance, Look Khun Noo: BF4L follows the girl as she enters puberty and the unsettling social norms at school.
Charinthorn always portrays the subject matter in a surreal fantastic way. In her realm, bullying, violence, and social phobias have turned into hallucinations that haunt for life.
Charinthorn Rachurutchata is an emerging artist with a background in fashion photography. She participated in Thaillywood Artist Residency program from February to April 2015.