"Floral Choreography" Water Color Exhibition by Kritika Buabusya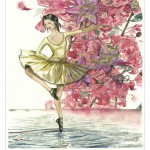 From July 27th to August 26th, Alliance Française Bangkok exhibited the first water color collection by Kritika Buabusya, a Thai artist. On the opening day, a dancer gave a splendid "floral choreography" especially for the occasion.
"Floral Choreography" represents the current stage in the artist's life where she is living among nature in Khao Yai. As nature unfolds and renews itself, this exhibition is a figurative study and a celebration of the sense of wonder that it brings to her and her husband on a daily basis.

Bangkok born Kritika Buabusya, grew up in Australia. Trained in Fashion and Textiles Design, she spent 10 years as a university lecturer in Thailand and later in New Zealand. Kritika's other work involves designs, retail, production, sourcing, visual merchandising, writing, organizing seminars and consultancy. She has an on-going interest in sustainable design, the ever changing notion of 'good' design and design products made by hand. Kritika is currently dividing her time between Bangkok and Khao Yai where she sets up a creative life studio (Euretha Atelier). She is a regular contributor to Art4D magazine.
This debut collection in water color transfers an aesthetic of non verbal communication through bodily movements, facial expressions and gestures of the ballerinas. This when combined with the botanical setting, manipulation of scales, proportions and composition offers another emotional dimension. Trained as a fashion and textiles designer, Kritika draws on personal experiences in fashion illustration while preparing for her exhibition. This artistic practice is an enquiry into the costume and the setting that does not fall into the trap of seasonal trends and commercialism so prevalent in the fashion world.