French singer Raphael concert at Alliance Française Bangkok!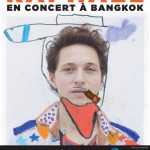 Organized in partnership with UFE, the French singer Raphael gave this first concert in Thailand to a full house. He managed to captivate the audience not only with his voice but also with his powerful lyrics.
He ended the show with the song Caravane, in front of an enthralled public, where his girlfriend, the actrice Mélanie Thierry, where standing with their son.