GALLERIES NIGHT – IN YOUR FACE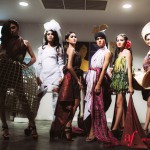 Organized by Toot Yung Nomad Gallery and Alliance française Bangkok, in the framework of Galleries Night by the French Embassy, "In Your Face" features the works of over 20 artists from France and Thailand essentially working with portrait.
Opening at 8pm, a projection screen will be set outdoors, on which extended photographic selection of Thai and French artists will be projected. DJ Marine Caillat assured the rythm and ambiance of the evening and there was be a pop up bar and food stall.
At 10Pm, there was a special Fashion Show, performed by Madieaw and his crew from Isarn.The Franco-Thai selection of photographers had focus on socially engaged portraits, involving themes of identity, genre and body performance. Extensive series of each photographer's works had been projected from 8 to midnight unvailing over 400 photographies during the evening.