« Great Bangkok – Great Paris: Inclusive Cities »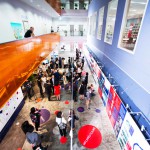 Public debate & exhibition « Great Bangkok – Great Paris: Inclusive Cities »
French embassy in Thailand, Alliance Française Bangkok, Research Institute of contemporary south-east Asia (IRASEC), Faculty of Architecture of Chulalongkorn University , Urban Design and Development Center (UddC)
The event consisted of four components:
Exhibition "Inclusive cities" from 16 November to 27 November at the gallery of Alliance Française Bangkok. Presentation on 26 November at 6pm.
Sculpture exhibition "Fantastic city" of the artist Val from 12 November to 12 December at Alliance Française Bangkok. Opening on 26 November at 6pm.
Debate on stage « Great Bangkok – Great Paris: Inclusive Cities » Thursday 26 November at 7 pm at the auditorium of Alliance Française Bangkok.
A scientific conference Monday 30 November at Chulalongkorn University.
More than half of the world's population now lives in urban areas. Cities have become platforms for interaction among people who are different on the grounds of sex, age, ethnic origin, mother tongue, social class, and status; as well as cultural background, value, belief, attitude, knowledge, and area of expertise. An intense level of connectivity and exchanges within this diversity brings about creativity and innovation, a major driver of socio-economic development of a modern city.
At the same time the diversity implies dissimilarity of thoughts and needs, which usually leads to conflicts in the execution of an urban development project. In this case a city becomes a space of confrontation and negotiation among people in the society. Exclusion of any groups from the resources that a city presents or failure to fairly distribute development benefits can usually aggravate inequality that might develop into an economic, social, and political crisis.
In view of this challenge, the concept of "inclusive cities" has been the focus of considerable controversy. The concept is still evolving and has been debated from various points of view. However, the essence of the issue remains that a development process that is open and responsive to the needs of all diverse groups living in the city must be put in place. The process must not exclude any certain groups. More specifically, it must entitle everyone to an equal access to public goods and services such as open space, public park, mass transit station, and intellectual development infrastructure, without discrimination, which is under the fundamental principles of human rights and democracy.
Urban regeneration offers an opportunity for realization of an inclusive city through transformation of rundown urban spaces in all their physical, economic, and social aspects into quality and meaningful spaces. It can create a public space that is conducive for many levels of social interactions among urban people. The new environment can encourage harmonious co-existence among people and provide livelihood opportunities for all. – The questions are: How can we understand the complexity, diversity, and dynamic of different urban spaces and various groups of people? How can we connect that understanding with the urban planning and management process?
We invite you to discuss and deliberate on the issues at our public debate << Grand Bangkok – Grand Paris: Urban Regeneration towards Inclusive Cities >> Meet with urban administrators, economists, urban designers, urban architects from Bangkok and Paris, the cities of diversity, under the "Bangkok250" project and "le Grand Paris Plan" project. The two projects similarly aim at making "riverfront spaces" a strategic tool to create an inclusive city for all.