Irma concert at Alliance Française Bangkok!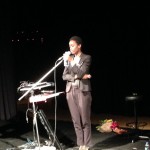 Alliance Francaise Bangkok co-organized with Asiajet and Pullman Bangkok Hotel G a charity concert of Irma for the benefit of the association Enfants du Mékong.
Irma became at age 20 the face of My Major Company, a participatory label that allows everyone to fund an artist. Irma is an artist recognized internationally, which naturally knows how to touch a very open public: it was the case in 2011 with her first "Letter to the Lord" album (platinum) and the title "I know". Her second "Faces" album, released in 2014, has a powerful and contagious energy and a magic touch, driven by his magnificent voice and her acoustic guitar.
Since 1958, Enfants du Mékong help the childhood of Southeast Asia. The NGO is among the poorest children and supports their education to give them the chance of a better future. Today, there are nearly 22,000 sponsored children and 60,000 children born who can go to school and this in seven countries: Laos, Vietnam, Cambodia, Thailand, Philippines, Myanmar and China (Yunnan).