JAZZ CONCERT: PEIRANI & PARISIEN DUO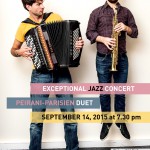 A love duo between a soprano saxophone and an accordion, drawing on jazz tradition at its best—Duke Ellington, Sydney Bechet—and experimentation.
Vincent Peirani and Emile Parisien are of the same age and have the same taste for experimentation. In their first album as a duo—a masterpiece of this sober concept—they improvised as they responded to each other, interpreting two little-known works of Bechet, one of Ellington, then an old-fashioned jazz classic and a 1909 ragtime. Both are in the process of redefining their instruments' concept, one playing accordion and the other soprano saxophone with boundless energy and creativity.
In June, Vincent Peirani received the "Victoires du Jazz 2015" award as France's artist of the year after being named the discovery of the year in 2014. Earlier this year, he received two Echo music award in Germany, one as Instrumentalist Of The Year and the other with Parisien as music Ensemble Of The Year.
You can watch the video, here !