Jean-Baptiste Gaubert live performance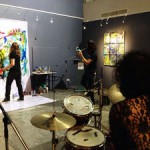 For those who missed the amazing performance of Jean-Baptiste Gaubert this Tuesday at Alliance Française Bangkok, here some pictures of this incredible evening.
Jean-Baptiste's "touch" is improvisation in music, he realized a great canvas inspired by the music of the Thai group STYLISH NONSENSE (specialist in music improvisation). An amazing and colorful artistic encounterMusic and color immersion
Jean-Baptiste Gaubert's painting is the visual transcription of a live music moment. It reflects the emotions that a two-dimensional surface manages to capture with all their sound and color fluidity. The artist's work gives people the freedom to conceive and reconceive his paintings while they are being created. Colors, signs, strokes and words uttered as they are written and thrown on the canvas: The work then becomes what could actually be called the second stage of the painting, the painting's painting once again.
Tracing signs and signing traces
This artist from Marseille in southern France has held several such performances including "Head Case" during the festival Fiesta des Suds in Marseille in 2008; "Mystery Nation" in 2009; and "Sept Péchés Capitaux," or seven mortal sins, in Nice in southern France in 2010. Also in 2010, Jean-Baptiste Gaubert was invited by the Alliance française of Bombay to take part in the French Touch Festival. That same year, he featured at the Contre Courant, or against the tide, festival in Avignon in southeastern France for which he created a poster,  and held a performance with the French dance company Ballet d'Europe during the Mouv' Art event in Marseille. In 2013, he was invited to feature in the P'tit' M art program as part of events held while Marseille was the European Capital of Culture.