La Fête de la Musique, World Music Day, 2021 in Bangkok – Day 1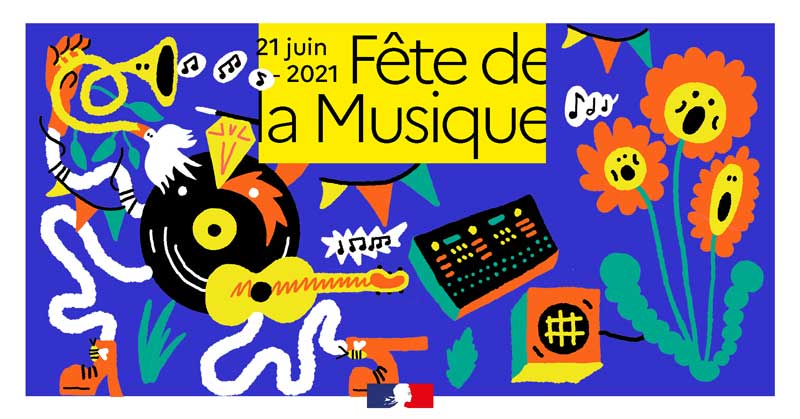 To celebrate the 40th edition of the Fête de la Musique/World Music Day, Alliance Française Bangkok invites you to dive into the French music scene: from electro to pop, from afro trap to metal and from hip hop to jazz, enjoy a very diverse three days programme with one click!
Musical tale for the youngest, drawn concert, playlists, recorded live performances, DJ set in binaural sound… During three days, transform your living room into a dance floor!
From Saturday 19 to Monday 21 June, discover a new program every day at 6:00 pm.
You are now the director of a major music festival! Enjoy (and good luck)!
Fête Accomplie by AmbaFranceCanada
Molécule "Acousmatic 360" live à La Cigale
Electronic music concert in binaural sound| Suitable for all audiences | 67 minutes.
More than a concert, Molécule offers a unique musical and sensory experience. Located at the center of the pit, the artists perform in total darkness. Thanks to real-time sound spatialization and the hyper realistic possibilities offered by advanced L-ISA technology, the music swirls around and envelops the audience. The images are recorded by thermal and infrared cameras, while binaural sound is used to recreate the 3D sound in order to allow the viewers to enjoy the original listening experience by using headphones.
Monsieur crocodile a beaucoup faim
Young audience | from 5 years old | 28 minutes | in French.
Musical tale by Marc-Olivier Dupin, based on the comic book by Joann Sfar. Chamber orchestra of Paris, story Marc-Olivier Dupin, conducted by Benoît Marchand, reciting Joann Sfar, text and projected drawings.