La Fête de la Musique, World Music Day, 2021 in Bangkok – Day 2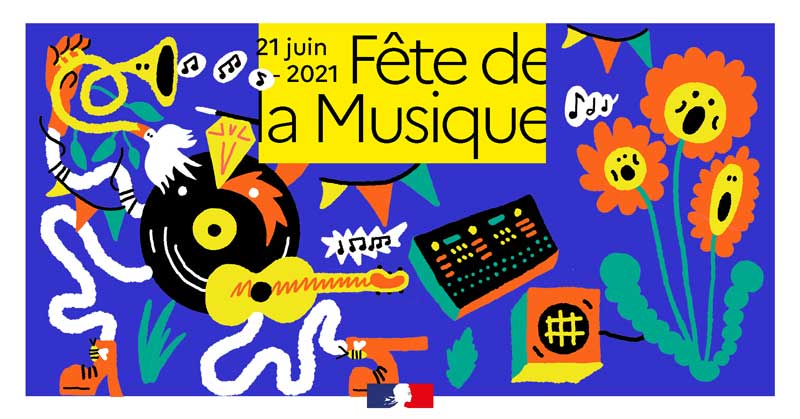 From Saturday 19 to Monday 21 June, discover a new program every day at 6:00 pm.
You are now the director of a major music festival! Enjoy (and good luck)!
Fête Accomplie by AmbaFranceCanada
Concert de Pomme – live acoustique 24 minutes
Claire Pommet, known as Pomme, is a 24-year-old French singer, songwriter and musician. She released her first album, titled "À peu près", in 2017. In 2020, she won the Victoires de la Musique award for album révélation ("newcomer album") of the year with her second studio "Les failles". In 2021 she won the Victoires de la Musique award for Best Female Singer of the year.
Drawn concert – Hugh Coltman et Juanjo Guarnido
Jazz and drawing | Suitable for all audiences | 52 minutes.
The "drawn concert" is the most spectacular performance and one of the climaxes of the Angoulême International Comics Festival, the biggest European Comic Strip Festival. It brings together a cartoonist and a musician and makes the audience witness in music a comic strip in the making. Music and image, sounds and features become the expression of the same story.
Hugh Coltman: A British musician living in France, former leader of the blues-rock group The Hoax before turning into a folk-pop songwriter, then in his forties into an explorer of the most beautiful heritage of jazz music. In 2017, he received the Jazz Victory in Best Vocal Artist category.
Junjo Guarnido: Cartoonist, illustrator and animator of Spanish origin, Juanjo Guarnido is best known for his work on Blacksad (Dargaud) scripts by Juan Díaz Canales. A comic book internationally acclaimed that got numerous awards in Europe and America, including the 2014 National Comic Prize from the Spanish Ministry of Culture.