La Fête de la Musique, World Music Day, 2021 in Bangkok – Day 3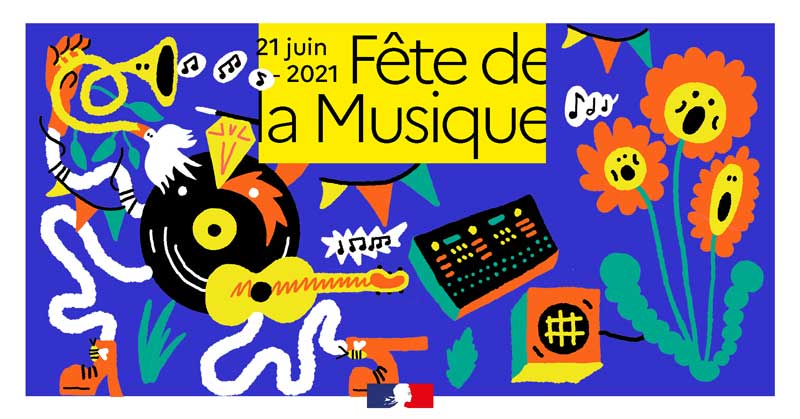 From Saturday 19 to Monday 21 June, discover a new program every day at 6:00 pm.
CONCERT FILME – FRENCH COWBOY AND THE ONE
Rock | Suitable for all audiences | 30 minutes
A duo composed of Federico Pellegrini (vocals, guitar) and Eric Pifeteau (drums), two self-taught musicians with years of experience on stage, delivers a powerful live performance.
CONCERT DIRTSA – Winner of the Pernod Ricard Live Music 2021
Hip-Hop, soul, afro trap | 29 minutes.
While the world seems to get nuts, Dirtsa makes her entrance like a tightrope walker, evolving with grace between Hip-hop, Lo-fi , soul/r&b, and afro trap. At age 23, Dirtsa is a sensitive soul, aware of her time, and capable of transforming a brutal reality into a lyrical and poetic fiction, combining subtly the best of her Franco-Cameroonian double culture and her Anglo-Saxon influences. Her first two singles "Straight out of France " and "Underdog" released in 2020 are two powerful anthems infusing in turn spleen and hopes.
ELECTRONIC LIVE SESSION – FLAVIEN BERGER
Electronic music | Suitable for all audiences | 28 minutes.
Electronic music concert recorded in binaural sound (the use of headphones is advised) and filmed at 360 degrees.
Coming from a family of filmmakers, Flavien Berger graduated from an art school and decided he would play music starting from a young age by playing on his PlayStation 2. Compared to artists such as Kraftwerk or Etienne Daho, the musician loves to stretch the length of his songs by using loops but without ever repeating himself. Live, Flavien Berger loves to improvise using his songs as a starting point for his musical explorations.