Look back on the Francophonie month in Thailand 2022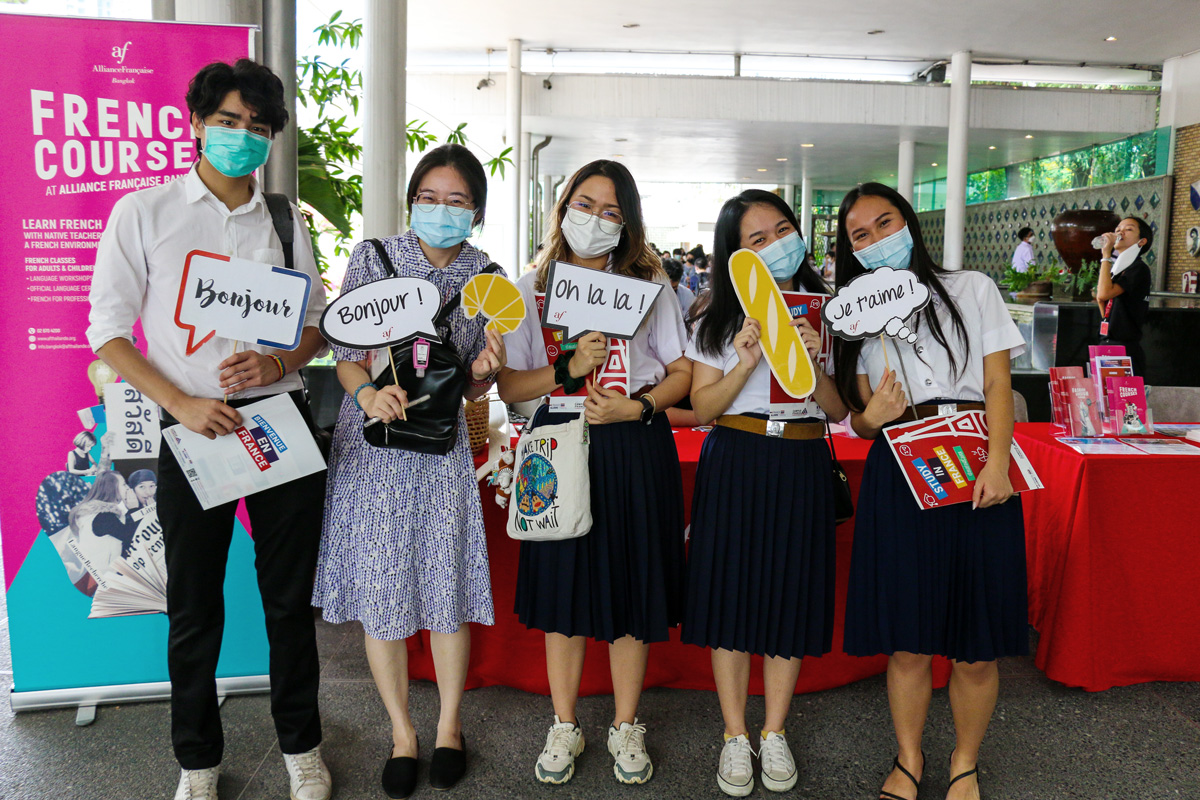 The Francophonie month in Thailand 2022 ended with a concert by the talented finalists of the singing contest of the Francophonie at the Alliance Française of Bangkok on March 31.
The opportunity for us to offer you a look back on this edition which has honored a large number of French-speaking countries around the values of La Francophonie such as dialogue, respect for cultural diversity and promotion of education.
In 2022, it is Switzerland that has taken over from France as the coordinating country. The Embassy of Switzerland in Thailand as well as the Alliance Française de Bangkok, the Embassies and delegations of Belgium, Canada, France, Kosovo, Luxembourg, Morocco, Poland and Romania, and their partners offered to the Thai public a rich program, combining concerts, public debate, cinema, sports challenge, dictation, singing contest, as well as many educational activities. 19 events in total during the whole month of March.
Relive in pictures some highlights of the month
On March 2, 2022, the new edition of the Francophonie month in Thailand was launched at Alliance Française Bangkok, during an opening ceremony in the presence of the Ambassador of Switzerland, H.E. Hélène Budliger Artieda, and the French-speaking diplomatic corps in Thailand. A premiere this year, the ceremony was broadcast live on Facebook and was followed by a dictation by the Ambassadors and Chargé d'affaires, in which participated, live, Thai schools from all over the country.
A wide variety of events followed, such as the "Women and Oceans" evening organized on the occasion of the International Women's Day; a piano recital; numerous film screenings of Polish, Luxembourgish, Moroccan, Belgian, Canadian and French films; "La Fête de la Francophonie", a day dedicated to French language learners at the Residence of Switzerland where hundreds of Thai high school and university students came from all over the country to participate in activities based on French; a classical concert; a flute and piano recital; a sports challenge, a virtual walk from Bangkok to Bern, in which several teams competed to reach the Swiss capital; and finally, a French song contest, where 11 finalists accompanied by their instrumentalists competed on the stage of the Alliance auditorium to win the hearts of the public and the jury…  
Thanks
Thanks to the Embassy of Switzerland, which assumed the role of coordinator this year, as well as to the Embassies and delegations of the member, associate or observer countries of the International Organization of the Francophonie (Belgium, Canada, France, Kosovo, Luxembourg, Morocco, Poland and Romania), thanks also to the partners for their support (the Thai Association of French teachers, TV5MONDE, Carnets d'Asie, Café Mademoiselle).
And see you in 2023 for the next edition of the Francophonie festival which will be coordinated by the Embassy of the Kingdom of Belgium in Thailand. 
Other articles on the same subject