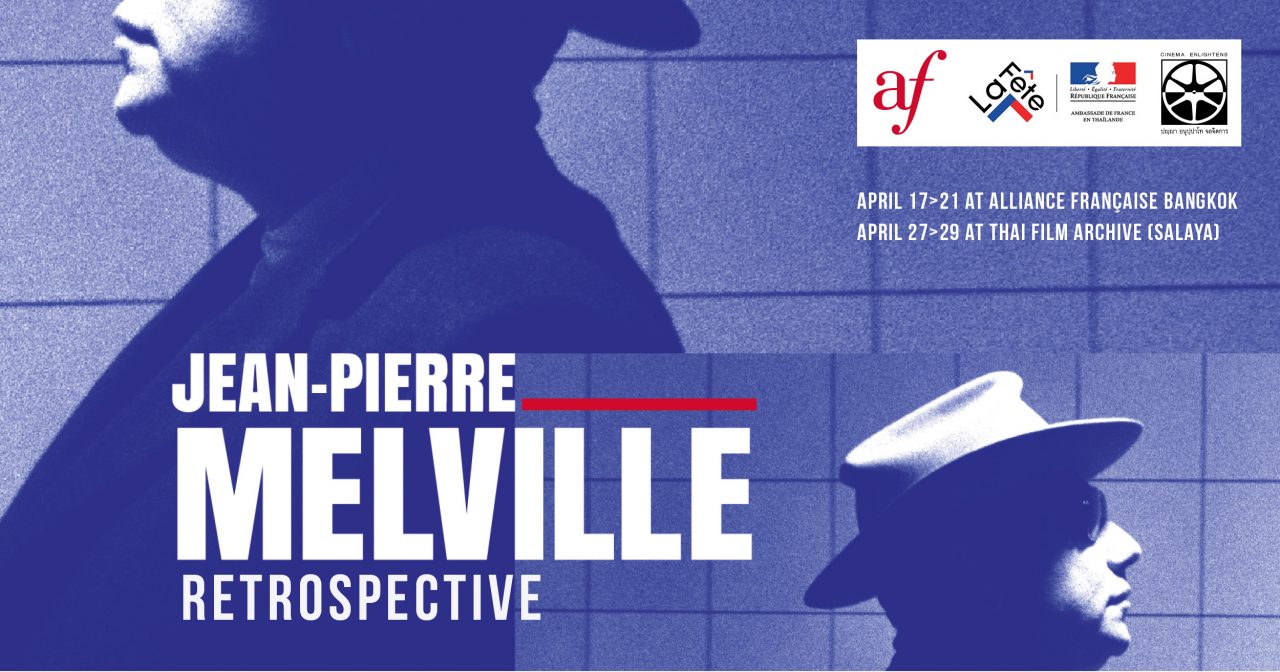 A major figurehead of film noir and world cinema, French director Jean-Pierre Melville is an inspiration to many acclaimed contemporary directors, such as Quentin Tarantino, Johnnie To, Aki Kaurismäki, Pen-ek Ratanaruang or Michael Mann.
On the occasion of his 100th birthday, Alliance Française Bangkok is pleased to feature the most famous of Melville's movies, documentaries about his work and famous films paying a striking tribute to the celebrated French director.

SCHEDULE
All the films in French with English & Thai subtitles (except I Hired a Contract Killer)
Tickets: 120 THB / 60 THB (members & students) | Pass: 200 THB / 100 THB (members & students)
Tuesday, April 17th at 18:30
1956, 98 min.
After losing big, an aging gambler decides to assemble a team to rob a casino.
Wednesday, April 18th at 18:30
1961, 123 min.
Set during occupied France, a faithless woman finds herself falling in love with a young priest.
Thursday, April 19th at 18:30
1962, 104 min.
A burglar betraying other criminals, prepares for a big heist with a trusted friend that might be as untrustworthy as he.
Friday, April 20th at 18:30
1969, 138 min.
An account of underground resistance fighters in Nazi-occupied France.
Saturday, April 21st at 14:00
2017, 57 min. (Director: Benjamin Clavel)
A documentary about Melville's influence on contemporary Asian filmmakers.
Saturday, April 21st at 15:30
1970, 134 min.
After living prison, master thief Corey crosses paths with two fellas and proceed to plot an elaborate heist.
Saturday, April 21st at 18:30
1990, 80 min. in English (Director: Aki Kaurismäki)
A man attempts suicide, but can't go through with it, so he hires a contract killer to murder him at some unspecified time.
The program will continue at Film Archive (Public Organization) in Thailand (Salaya) from April 27th to 29th
More information on www.fapot.org and Facebook