Alliance Française Bangkok is moving!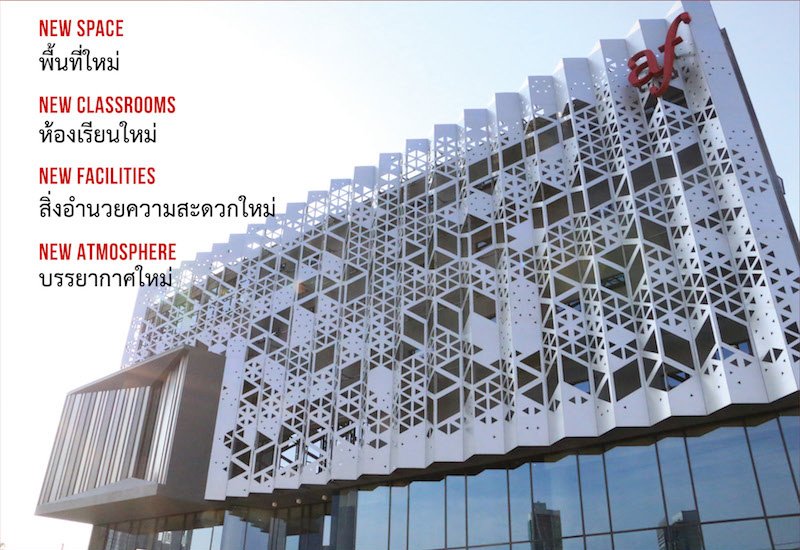 Alliance Française Bangkok will move to a stylish new building in July. The current site will close on 2 July, but the translation service and the registration office will remain open the entire month.
The new building will open on 27 July and all courses will resume on this date.
Easy to find
Located right across the road from the current building, the new site will be more modern, spacious and interactive. Click on the picture to enlarge.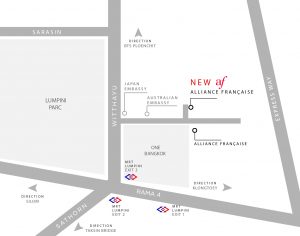 The registration office and the translation service remain open in July
Smiling, flexible and available, our team remains at your disposal throughout the transition to the new building in July. The registration and translation services are open continuously during this period.
Read more
Students and visitors will enjoy brand new facilities
Over 5 floors, the 6500m2 building comprises 29 classrooms, a 330m2 interactive library, a brighter dance room and a more spacious sewing room.
A brand new 219 seats auditorium will offer premium acoustic and higher ceilings, for memorable artistic experiences. An exhibition area will welcome artists' creations.
A dynamic back to school!
Benefiting from more spacious classrooms in the new Alliance Française, the teaching team is eager to introduce students to their new learning spaces. The children's rooms will also be redesigned, and in particular we are creating a room for the little ones to express their gross motor skills and general mobility, as we want to give them a new option more adapted to their needs.
Read more
A modern and interactive media library
"Modern, dynamic and interactive" are the words our new librarians Antoine and Tack have chosen to describe Alliance Francaise Bangkok's new media library. Pending the opening on 27 July, they tell you more about the novelties of the media library in an energizing interview!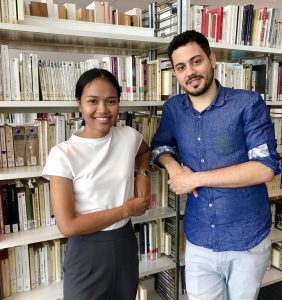 An eclectic and innovative cultural agenda
Bigger and more modern, the new Alliance Française Bangkok is already raising a lot of enthusiasm from culture lovers who are eager to discover its new spaces dedicated to art and culture.
Read more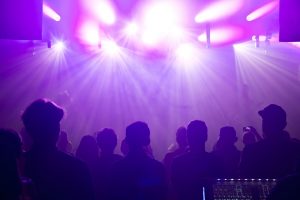 A bigger art center for limitless creativity!
The new Alliance Française Bangkok will offer large spaces dedicated to artistic activities for adults and children. New activities will be added to the catalog of the art center and several events will be expected during the year.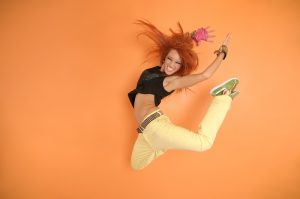 'Carnets d'Asie', the French bookstore
'Carnets d'Asie', the French bookstore in the heart of Bangkok, unveils the novelties to be discovered in its new space from 27 July.
Read more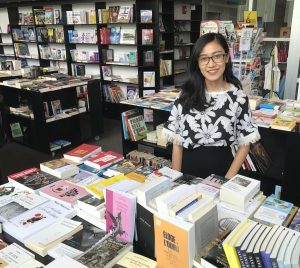 Opening of Café Mademoiselle at Alliance Française
The new Alliance Française will host Café Mademoiselle as of July 27th, 2018.
Since cooking is an integral part of any cultural experience, the new French café will serve healthy traditional French cuisine and homemade pastries in a friendly "French bistro" atmosphere. Cold cuts and cheese, as well as a variety of breads will also be available to take-away. Traditional Thai dishes will also be on the menu, cooked with quality products.
Read more