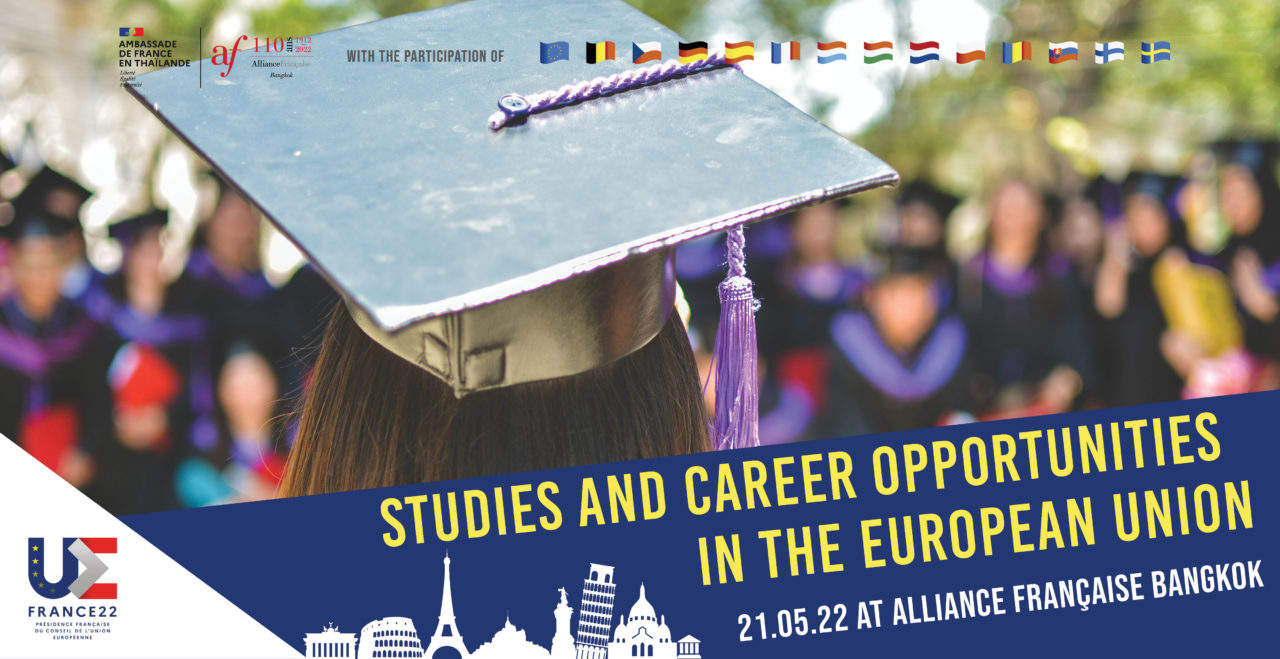 Studies and career opportunities in the European Union Fair
In the frame of the French Presidency of the European Union, Alliance Française Bangkok, the Embassy of France and its European partners present "Studies and career opportunities in the European Union fair"!
Open to all, from 9:00 to 17:00, this fair will allow you to meet with representatives from Student Agencies and Universities from 13 European countries (Belgium, Czech Republic, Germany, Spain, France, Luxembourg, Hungary, Netherlands, Poland, Romania, Slovakia, Finland, Sweden), to gather information on the European Higher Education system (B.A, M.A and Doctorate) and grant programs such as ERASMUS+ but also to attend conferences and to ask Thai Alumnis all the questions you have about living, studying or working in Europe.
Save May 21, 2022 on your agenda : conferences, universities or organizations are on the program!
Program of the day
– May 21, 2022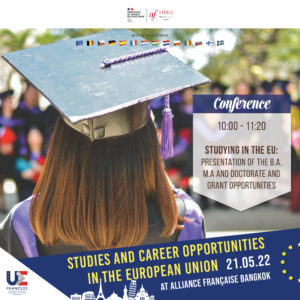 Studying in the EU: presentation of the B.A, M.A and Doctorate and grant opportunities | 10:00 – 11:20
General presentation of the B.A, M.A and Doctorate system, grant opportunities such as ERASMUS+, Student Schengen visa etc.
1h presentation
20 minutes Q&A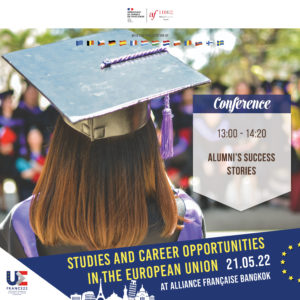 Alumni's success stories | 13:00 – 14:20
Former Thai students who studied in Europe will be on stage to share their experiences on studying in European universities, living in Europe, they will talk about their academic fulfillments and challenges they met and their career benefits of studying in the EU.  
1h presentation
20 minutes Q&A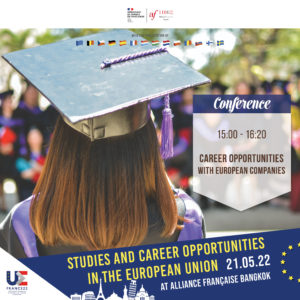 Career opportunities with European companies | 15:00 – 16:20
Learn about the profiles European companies based in Thailand and the Southeast Asia region are looking for. To plan ahead and help you choose the right academic field for your career, meet with representatives of European companies and members of several Chambers of Commerce to know more about tomorrow's opportunities. 
1h presentation
20 minutes Q&A
Wait no longer! Come complete your higher education in Dutch-speaking or French-speaking Belgium! Right at the heart of Europe, Belgium can offer excellent quality higher education, diversified education for all your needs and desires, recognised the world over.
Websites: https://www.studyinbelgium.be/en & https://www.studyinflanders.be/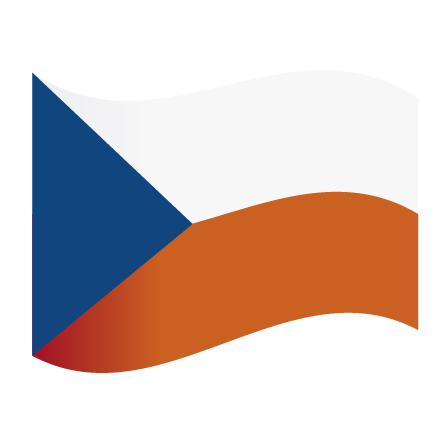 The goal of the initiative Study in the Czech Republic which falls under the Czech National Agency for International Education and Research (DZS) is to bring talented students to the Czech Republic and show them that the Czech Republic is a smart choice for their future.
Our initiative and its website provide official information about the Czech higher education system, study opportunities, and student life in the Czech Republic. Do you want to study at a university with a great quality and affordability ratio? Do you want to have the time of your life abroad? If your answer is YES, then the Czech Republic is the #smartchoice for you! And we are here to help.
STUDY. TRAVEL. WORK. LIVE!
Czech Republic – Your future. You choose.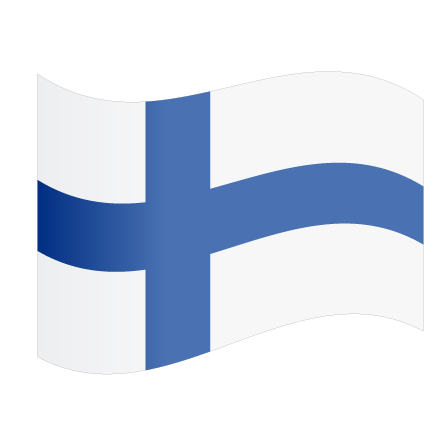 Finland's world-leading higher education system offers more than 500 English-taught bachelor's and master's degree programmes in 13 universities and 22 universities of applied sciences (UAS). The universities also offer English-taught doctoral degree options. Finnish higher education institutions have over 20 000 international students studying in several locations around Finland.
All universities and universities of applied sciences have scholarship opportunities for international students.
Website: https://www.studyinfinland.fi/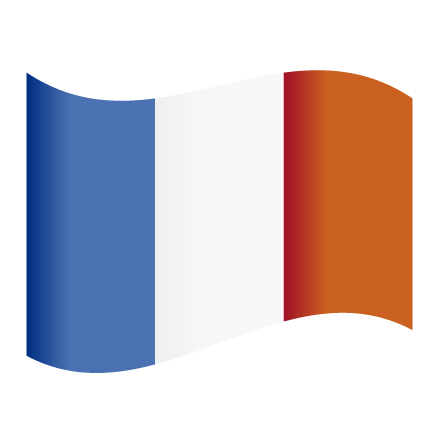 With over 370,000 international students, France is the sixth largest host country for international students in the world. Investing 6.6% of its gross domestic product (GDP) for supporting education, France is one of the least expensive countries in the world to study, with assurance of quality education and the value of degrees granted.
The Campus France Agency was created under the control of the Ministry of Foreign Affairs and the Ministry of Higher Education to provide information about higher education in France to the world. Its branch office in Thailand provides information on its website in English and Thai about study courses, scholarship opportunities, and stay in France. We also offer individual consultations to students at our office in Bangkok.
We also run France Alumni, a global network of members who have studied in France set up by the French Ministry of Foreign Affairs in 2014.
Website: https://www.thailande.campusfrance.org/en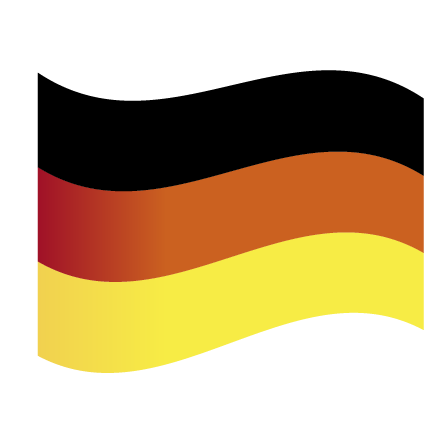 The DAAD provides scholarships, informs about study and research in Germany, promotes university cooperation and supports German study programmes abroad. Here, you will find more detailed information on the work of the DAAD in Thailand and our Information Centre in Bangkok.
The DAAD Information Centre Bangkok
In 1999, the DAAD Information Centre was opened on the premises of the Thai-German Cultural Foundation (TDKS). Here, we offer free consultation for study beginners, graduates, doctoral students and for experienced academics. Whether you want to know about admission to German universities, the German scientific landscape or about university cooperation – we always try to provide you the information you need. The DAAD is your direct contact for all questions about the academic exchange between Thailand and Germany. We are looking forward to your visit!
You can follow us via:
Facebook: DAADThailand
Line official: @daadthailand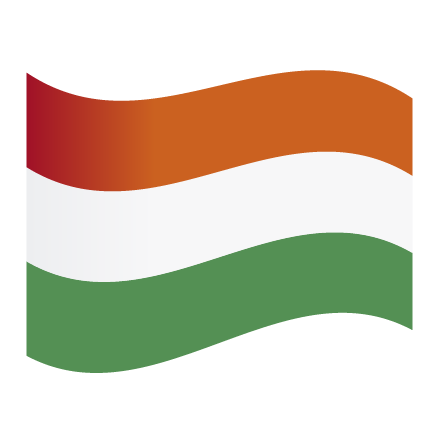 Hungary is located in Central Europe with eight World Heritage Sites. The country is well known to have exceptional higher education and a high number of Nobel Prize laureates in the field of science. As the number of graduates is increasing each year, Hungary is becoming a more popular destination for studying abroad.
This year, 17 Hungarian higher educational institutions will be introduced at the European Higher Education Fair. Each and every one of them are very unique, located in various cities (ex. Pécs and Szeged), and offer high-quality courses in a wide range of fields (engineering, economics, music, physical education and international affairs), so come and collect information and find the institution that best suited for you!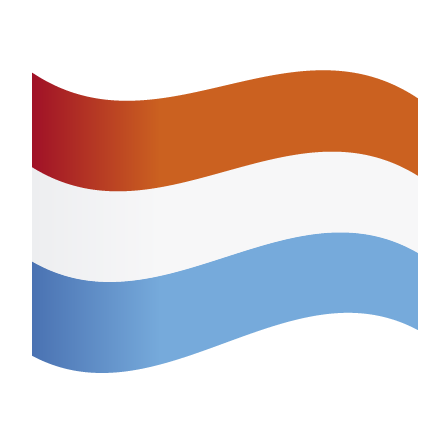 Studying at the University of Luxembourg, is a uniquely enriching experience. The programmes draw on the knowledge of experts from the business community, Luxembourg's financial centre – one of the world's leading centres – as well as international institutions, such as the European Court of Justice or the European Investment Bank and many more, who all complement the academic staff to ensure highest-quality teaching. Located on Belval Campus and in Luxembourg City, this modern University thus offers students cutting-edge knowledge in a distinctly interdisciplinary environment while retaining a personal atmosphere. Small classes and mentoring ensure direct interaction between students and teaching staff.
Founded in 2003, the University has already positioned itself among the best young universities in the world and ranks in 12th position of the Times Higher Education ranking of universities of less than 20 years of age. The University has a broad network of international partner institutions and offers bi- and tri-national study programs. One semester abroad is mandatory for all undergraduate students.
In tandem with the establishment of the University, 4 major research centers were set up: the LIST (Luxembourg Institute of science and technology; the LISER – the Luxembourg Institute of Socio-Economic Research, the Luxembourg Institute of Health and the Max Planck Institute and backed by a National Research Fund.
For the period 2018-2021 the government allocated 1.5 billion EURO on research and development, including block grants to the University and to the research centers. Out of which 340 million EURO were earmarked to the National Research Fund.
With the emergence of Internet of Things (IoT) and to support the rising number of blended ICT projects, the SnT, an interdisciplinary center for security and reliability and trust was launched in 2009, with a focus on : autonomous driving, cybersecurity, fintech, IoT, secure and compliant data management, space systems and resources.
Today the SnT has a team of 320 researchers – of up to 60 different nationalities – and top scientists and has established a Technology Transfer Office, to protect and to license IP.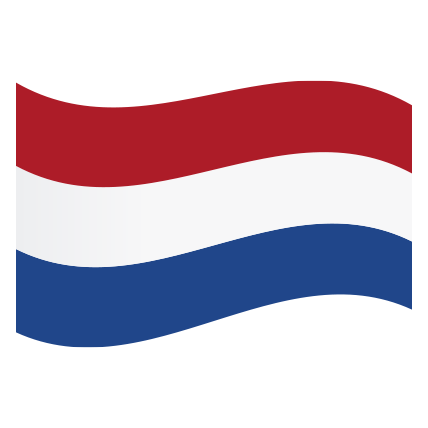 The Netherlands is one of the safest countries in the world, according to the 2018 Global Peace index and belongs to the top 10 happiest countries in the world.
The country has a rich history with historic cities and the highest museum density in the world and it is also the gateway to Europe! In just three hours you can be in Paris. London and Berlin are just a five or six hour train ride away.
Dutch universities offer the largest number of English-taught programmes in continental Europe. About 2,000 programmes are taught entirely in English. Also, 95% of the Dutch speak English, so it's easy to communicate in daily life.
Many international students come from more than 160 different countries. Dutch Society is diverse and inclusive. It is strongly connected to other cultures, the business community and the world. The Dutch are open-minded and direct, so it is easy to meet them and exchange ideas.
Career opportunities is excellent, the Netherlands is the 18 largest economy in the world, some of the world's biggest multinationals, including Philips, Heineken, KLM, Shell, ING and Unilever, are Dutch. The Netherlands is a world leader in many areas of expertise, including agriculture, water management, art & design, logistics and sustainable energy. The Dutch government wants to attract knowledge and retain talent, international graduates can therefore apply for an orientation year. This is a residence permit of one year to find a job, or start a business within three years of graduation. Join our NL Alumni network to increase your chances on the job market.
More information can be found from Homepage | Study in Holland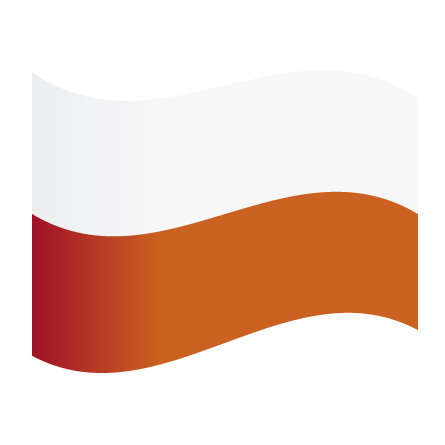 Polish university education system has a history of 650 years of educating high-profile professionals. It benefited not only Poland, but also any countries all over the world where Poles brought their professionalism and spirit of innovation. Relatively low costs of living coupled with high education standards make Poland the perfect country of choice for foreign students willing to study in the European Union. Polish universities are attractive to foreigners for many reasons. They offer a wide educational offer conducted in English. They have a high standard of teaching and instruments to conduct world-class research. Year by year, they go up in international rankings. They are increasing their reputation abroad, consistently gaining new international accreditations and certificates. It also employs highly qualified academic staff, including international ones, open to new ideas and supporting students. Since 2007/2008 academic year Polish higher education system has been divided into three stages, which are: Bachelor (undergraduate), Master (graduate), PhD (Doctoral Studies). This system applies to all fields of education except Law, Pharmacy, Psychology, Veterinary, Medicine and Dentistry, which are still based on a two-stage system (Master and Doctor).
Poland has signed the Bologna Declaration along with 29 others countries, aiming to create the European Area of Higher Education. During 2019/2020 academic year 1,2 mln students were studying in Poland, 82 194 of them were foreign students. Most of foreign students choose Warsaw, Kraków, Lublin, Poznań or Wrocław as destination for their studies. All the educational programmes in Poland are constantly monitored by PKA – The Polish Accreditation Committee.
https://www.gov.pl/web/thailand
Twitter: @PLinThailand
Facebook: Ambasada RP w Bangkok
Wrocław University of Science and Technology (WUST/Wroclaw Tech) is a leading research and educational centre in Poland. Our scientists deal with topics that concern the world. From seeking cures for COVID-19 and other life-threatening diseases, through the searching for an alternative energy sources, archaeological research in Africa and South America, to constructing modern lasers, developing information technology security and designing modern bridges.
WUST was established in 1945, mainly as a result of the involvement of the academic staff of the now-defunct Technical University of Lviv and the Jan Kazimierz University in Lviv, who adapted the destroyed buildings of the German School of Technology – Technische Hochschule.
Today we continue the tradition of these prominent Polish universities and develop in close cooperation with the leading companies of Lower Silesia. We are one of the largest and best technical universities in the country, one regularly ranked among the best in the national rankings.
Currently, the tertiary institution is governed by Professor Arkadiusz Wójs, whose term of office will last until the end of August 2024.
WE SPECIALIZE IN (www.admission.pwr.edu.pl):
Architecture and urban planning / Automation, electronic and electrical engineering / Social and economic geography and spatial management / Computer engineering and telecommunications / Biomedical engineering / Chemical engineering / Civil engineering and transport / Mechanical engineering / Environmental, mining and power engineering / Mathematics / Chemical sciences / Physical sciences / Management and quality studies
More information:
pwr.edu.pl/en
admission.pwr.edu.pl
szd.pwr.edu.pl (Doctoral School)
Facebook
Instagram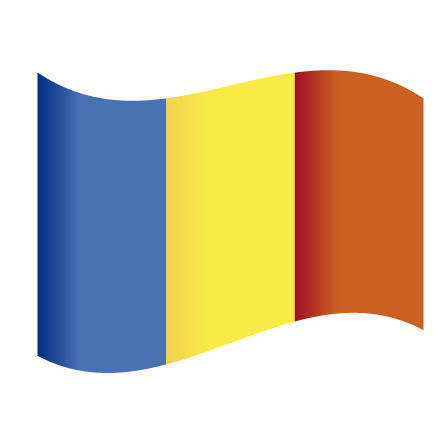 NOTHING IS FAR WHEN ONE WHANTS TO GET THERE. It's time to STUDY IN ROMANIA!
Romania is a great place for you to study, diplomas are recognized all over Europe and beyond. Students from 121 countries are currently studying in Romania.
While probably the most known thing about Romania is the legend of Dracula, Romania is much more than that. Think medieval towns, time-capsule villages, delicious cuisine, picturesque monasteries, virgin forests, majestic mountains, a blossoming art community and impressive landscape. …And, of course, high quality education!
A complete guide to the programs offered by Universities in Romania can be easily accessed here: https://studyinromania.gov.ro
There is more to go for. Scholarships opportunities.
Annually the Ministry of Foreign Affairs of Romania offers Scholarships for non-EU citizens.
Follow the call for applications for scholarships open every year from mid-November to mid-March.
Choose your program, plan your trip, Romania is ready for you!
_________________________
For more information on Study in Romania and scholarships click here: https://studyinromania.gov.ro/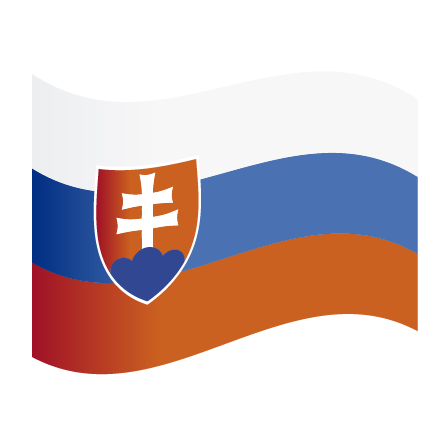 You will be amazed by Slovakia's beauty and hospitality once you decide to live and study in this small country with a big heart located in Central Europe. Slovakia is country with long tradition of university education and the quality of Slovak universities has increased rapidly over the past few years. There are 34 higher education institutions (HEIs) in total in Slovakia. The language of tuition in general is Slovak, but the HEIs offer also a number of study programmes in other languages, mostly in English, but sometimes also in Hungarian, French, German or Russian. An academic year consists of two semesters. A bachelor level lasts 3 years, master level 2-3 years and PhD 3-4 years.
Tuition fees for study programmes offered in other than Slovak are set by each university/faculty separately. Fees vary from 490 € to 12,200 € per one academic year. However, students studying full-time in Slovakia without exceeding the standard length of study do not pay tuition fees, if they study a programme offered in the Slovak language. Student expenses could vary from 200 € to 400 € and a dormitory fee from 50 € to 150 € per bed. Naturally living costs differs depending on city, location and type of room. Scholarships for foreign students, researchers and teaching staff for studies or research can be found at: www.grants.saia.sk.
If you choose to study in Slovakia, you will find out that it is not only about obtaining a degree. Slovak universities offer a lot of extracurricular activities, especially when student organisations are involved. You can do sports, sing in a choir, go hiking in the mountains and so much more. Slovakia encourages you to get to know the country, its people, culture and the beautiful nature.
More information: www.studyinslovakia.saia.sk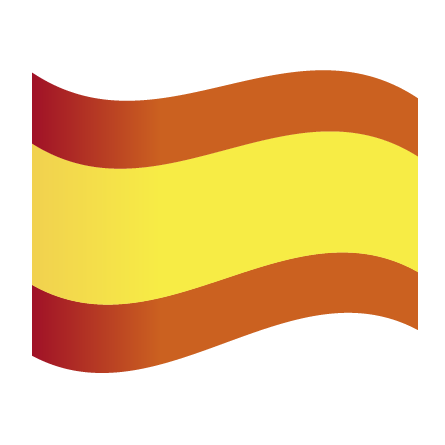 SEPIE (the Spanish Service for the Internationalisation of Education) is the Erasmus+ National Agency in the fields of Education and Training in Spain and the public organisation for the international promotion of the Spanish University System and the mobility of students, teachers and researchers.
SEPIE offers prospective Thai students all information needed to make the best choice regarding the study program they want to pursue in Spain. Hence, it addresses to undergraduate and graduate students, teachers and staff, whether they want to come to Spain for a credit mobility, obtain a degree or undertake any other kind of mobility period in all areas of knowledge. SEPIE offers guidance to incoming students.
More information: http://sepie.es/internationalisation.html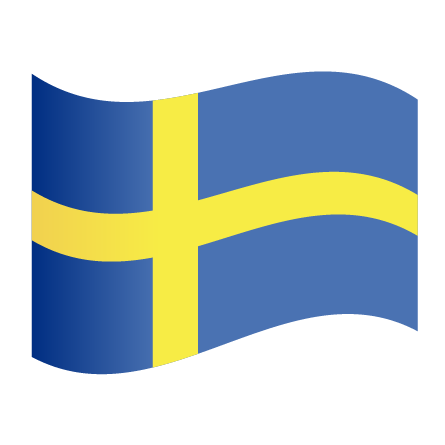 Sweden is ranked among the world leaders in higher education. And despite its relatively small population of around 10 million, it's home to some of the world's best universities.
There are around 50 universities and university colleges in Sweden. Most are state-run, but some are independent institutions of higher education, like Stockholm School of Economics, Chalmers University of Technology in Gothenburg and Jönköping University. Some of the oldest universities are Uppsala and Lund. Swedish universities regularly place highly in global rankings.
Sweden is home of the Nobel Prize, and also home one of the biggest unicorn factories in the world – Stockholm produces the most million dollar companies per capital in the world, after Silicon Valley.
Is Sweden the right study destination for you? Take a 4-minute quiz. 
Let's go! How to apply to study in Sweden.
Website: www.swedenabroad.com/bangkok
Facebook: www.facebook.com/SwedeninBangkok
Twitter: www.twitter.com/SwedeninTH