THE FRANCOPHONIE MONTH IN THAILAND – 2021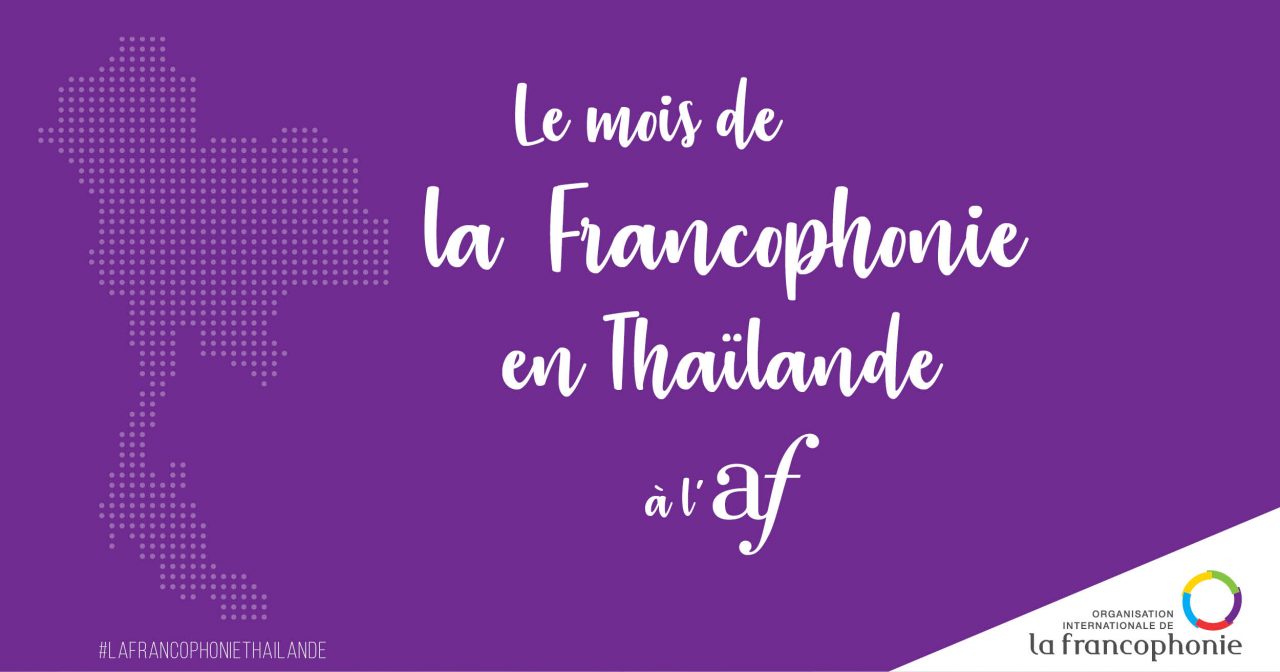 March 2021: Together, let's celebrate the month of the Francophonie in Thailand!
The month of March will be filled with many cultural events and activities.
Check out this year's program.
French language in the land of smiles
In the land of smiles, there are 500,000 Thai people who speak French fluently ! Today, in Thailand, more than 30,000 pupils or students are learning French in more than 210 secondary schools and nearly 30 universities, thus giving the French language a privileged place in the kingdom, even if the country doesnt share the French-speaking heritage of its neighbors.
What is "Francophonie"?
French is the 2nd language learned in the world, right after the English language, the 3rd language of business and the 4th language on the internet. According to figures from the « International Organization of La Francophonie », in 2018 there were more than 300 million Francophones in the world.
Francophonie is first and foremost women and men who share a common language, French. But this community of language also share the culture and values that this language conveys. The International Organization of La Francophonie (OIF) has not only the mission of promoting the teaching of French but also to enhance common values notably peace, human rights throughout the world, and global issues, such as the environment or sustainable development.
The Francophonie month in Thailand
Every year in March, Le « Mois de la Francophonie » or the month of francophonie, intends to promote the French language everywhere in the world and to support dialogue and understanding between people, groups and communities.
After Luxembourg in 2020, this year France is taking on the role of coordinator of the month of « la Francophonie » in Thailand. In partnership with the Alliance Française and the Thai Association of French Teachers, but also with the Embassies and delegations of Belgium, Canada, Kosovo, Luxembourg, Poland, Romania, and Switzerland, the French Embassy in Bangkok is pleased to invite you to celebrate « Francophonie Month 2021 » in Thailand!
Throughout the month of March, theater, concerts, exhibitions, conferences, cinema, or even unique educational activities will be happening throughout the country.
Finally, on March 20, all the partners will meet at the Résidence de France for "La Fête de la Francophonie is taking breath of Fresh air", for a reception to honour all students or highschool kids who chose to learn french.
THE FRANCOPHONIE MONTH 2021 – PROGRAM
— Follow the events of the Francophonie Month in Thailand using the Hashtag #LaFrancophonieThailande on Facebook, Twitter and Instagram !
— Useful links
Organisation internationale de la Francophonie – website
Official press release
— La Fête de la Francophonie 2019