The registration office and the translation service remain open in July
The registration office
Open 7 days a week
The registration office of Alliance Française Bangkok is open 7 days a week from Monday morning to Sunday lunchtime.
Smiling, flexible and available, the entire team remains at your disposal throughout the transition to the new building in July as the service will be open continuously during this period in the current building.
The new spaces will offer a reception area and a large registration area where a team of 6 bilinguals (French / English) and trilingual (Thai, French, English) staff is trained to guide future students and members in their activities.
Located on the ground floor in the new building, the registration office will be more easily accessible.
Would you have any question, feel free to contact the registration office here: info.bangkok@afthailande.org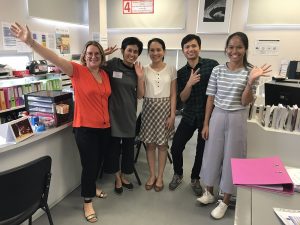 The translation service
During the move, the translation service remains open!
Alliance Française offers a certified translation service for administrative documents from Thai to French and from French to Thai. Our services cover the following documents: identity card, birth certificate, diploma and certificate, passport, marriage certificate, death, divorce, change of name, certificate of residence, certificate of celibacy, transcription of academic notes …
Our translation service has been accredited by the French Embassy in Thailand and is recognized by the Belgian Embassy in Thailand.
To save time, send us your documents by email, you will receive a quotation within 24 hours (working days).
The translation processing time is 2 working days, sometimes longer, depending on the documents and the number of requests in progress.
In the new building, the translation service will be located on the 3rd floor, next to the stairs.
More information: http://afthailande.org/en/translation-service-2/