The success of the first event of "Debates on stage"!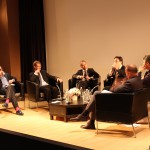 The first event of "Debates on stage" brought nearly 150 participants. The theme was "Thailand, stakes and prospects, 2015 Asean horizons". The round table was moderated by Arnaud Dubus, journalist, Bruno Jetin, researcher at Irasec, Stephff cartoonist for The Nation, Ukrist Pathmanand, and Voranai Vanijaka, editor-in-chief of GQ magazine.
The aim was to facilitate the meeting of authors and an open public within the framework of a new scenography, on a theme of general interest presented by the director of the Irasec, François Robinne.
We hope that future editions of "Débats sur scène" will be equally successful!