The third "Debates on stage" was a great success!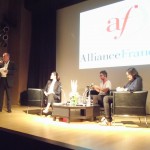 The third edition of "Debates on stage" was once again a great success with more than 200 participants.
The theme: "Contemporary creation in Thailand: What for?"
Thanks to the speakers: Pascal Rambert, Anocha Suwichakornpong, Pichet Klunchun, Pawit Mahasarinand, Teerawat Mulvilai for these beautiful moments of exchanges that allowed us, for one evening, to see the world differently.
Thank you to the students and teachers for their warm participation!
Thanks also to the Embassy of France and Alliance Française for organizing this evening.
See you soon for an upcoming edition of "Débats sur scène"!
Pascal Rambert, director of Théâtre de Gennevilliers and a multi-talented artist, a playwright, writer, director, choreographer and director, will be present in Thailand in September for the publication in Thai language of his play "Clôture de l'amour", a real success of the Festival d'Avignon 2011 and has been awarded several literary prizes, including the prestigious Grand Prix of dramatic literature. Taking advantage of his arrival, we invited him to participate in this third edition of Debates on Stage (round table followed by a debate) which will be devoted to the contemporary Thai artistic and cultural scene. Alongside Pascal Rambert, directors Anocha Suwichakornpong, dancer and choreographer Pichet Klunchun, president of the Thai Center of the International Association of theater critics Pawit Mahasarinand and artistic director of the theater company B-Floor Teerawat Mulvilai .The round table and the debate will be simultaneously translated into French and Thai and preceded by a signing session by Pascal Rambert.
This evening is organized in collaboration with the Service of Cooperation and Cultural Action of the Embassy of France in Thailand and the Chulalongkorn University, with the support of Pullman King Power.Several times during the year, the audience will be able to meet an open public with personalities from the artistic, economic, political and scientific world.