TRANSFER[S] exhibition: the success of a French-Thai artistic cooperation!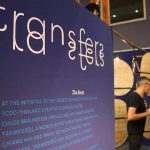 After having worked together during an exceptional workshop held between Chiang Mai and Paris, a multicultural team composed by 7 Thai and French designers presented an amazing collection of objects at Alliance Française Bangkok from February 8th to 26th 2017!
TRANSFER[S] exhibition, organised at the initiative of the French Embassy in Bangkok La Fête and Thailand Creative & Design Center (TCDC), reflected this work, overcoming stereotypes and cultural barriers.
Mission accomplished for the designers: no one could identify their collection as French or Thai and simply saw it as a set of designed objects invented for the occasion on the basis of the artists' design expertise.
In brief, Alliance Française Bangkok and the numerous visitors who came were amazed by this incredible ode to universality and interculturality!