WAB at Alliance Française!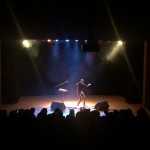 Alone on stage WAB comes along with a vocal looper which he has been performing live for more than fifteen years.
This new show Fruit of The Loop invites us in the personal universe of the singer beat boxer blend of Afro-American, jazz, tribal musics…
Funk, Soul, Pop are his childhood musics.
The a cappella melodies shapes an universal sound in the lineage of Bobby Mc Ferrin, and creates an intimacy between a sensitive voice and the public.
WAB enjoys creating sounds with his voice, and images with his body by drawing a movement accompanying the melody and giving a poetic way to the show.
In harmony with a "human" musical lifestyle, WAB spreads out a message of tolerance and a celebration of the childhood remaining in each of us.
" We need all the colors to make the light shines! " – WAB