When reality goes beyond dreams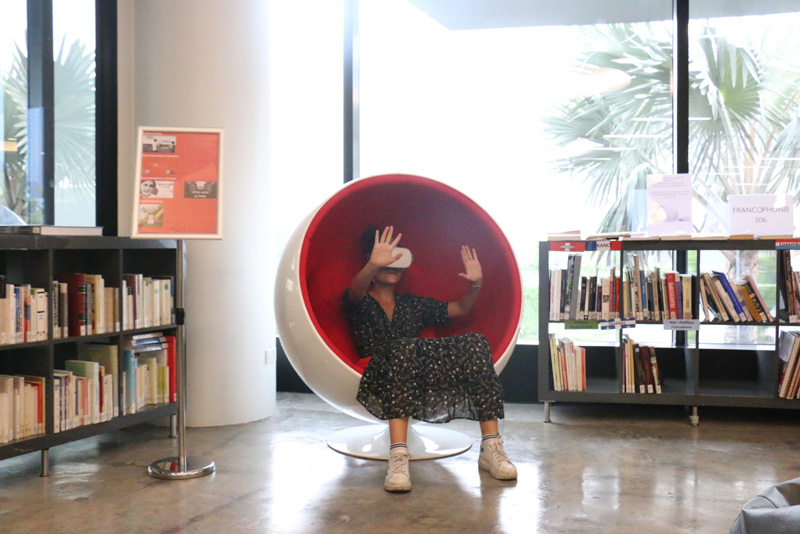 Do you dream of swimming with sharks or attending the construction of Notre-Dame de Paris? It's now possible thanks to Alliance Française! [Updated on 14.08.2019]
When VR meets AF
What is the virtual reality (VR) and what are its goals? Are virtual worlds truly realistic?
Many questions it is now possible to answer by experimenting the different reality programs of Alliance Française's multimedia library.
Virtual reality: an immersion between dreams and reality
As one of the most modern innovations of the audiovisual field, virtual reality aim is to reproduce an external environment in four dimensions, with which we can interact.
Available for free for Alliance Française members, this small headset called Occulus Go, seems to be the new obsession of all travel, history, and learning freaks.
As a unique sensorial experience, virtual reality awakens all our senses such as hearing, touch and sight. So let's go, take a seat in the egg-shapep chair located in front of the library's huge bay window and travel through fascinating worlds, where dreams meet reality!
(Cover photo: a girl testing the National Geographic program. Touching some sharks… at the multimedia library of Alliance Française)
Programs combining entertainment, culture and language learning
The multimedia library offers you different virtual reality programs, that allows the wildest visual immersion experiences: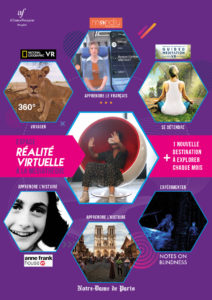 Program:
Notre-Dame de Paris construction in a medieval Paris

An immersion in the heart of 12th century Paris, when the stunning Notre-Dame de Paris was built, which seems sadly relevant today. You will discover the meticulous work of the craftsmen of the time, in a Paris that stands out for its authenticity and history.
A visit of the Anne Frank's House Museum

Another journey back in time takes you to visit Anne Frank's house, throughout the exhibition dedicated to her. With a series of objects that belonged to him, this program tells her story, during the Nazi occupation of the Netherlands and the deportation of Dutch Jews. A truly interactive visit, where virtual reality goes beyond fiction: the interactions with the museum's objects and visual devices really give the illusion of being there!
Click for more information about the Anne Frank Museum.
Get to the most mind-blowing places of the earth with National Geographic!

A completely different type of immersion offers you the opportunity to swim with sharks, climb to the top of hundred-year-old trees, or experience weightlessness around a space base. This virtual reality program offered by National Geographic fulfills all your dreams of stunning landscapes where we never thought we could go. Madly realistic, this program will make you feel dizzy at the top of a thousand-year-old tree, and jump at the approach of a white shark in the abyss! In those shivering natures, all you have to do is turn the chair around and lift your head to find yourself surrounded by lions in the savannah, or in the middle of the universe, thousands of kilometres from Earth.
For more information about this program click here.
An inner journey with a meditation guide

Beyond the journeys around the immensity of the earth, the red egg-shaped chair of the media library takes you to a complete different type of excursion, through a spiritual journey. This time, virtual reality plunges you into a world of serenity and appeasement, where your senses are gently awakened. Soft music, a vegetation halo and meditation comments: it is hard to believe that Bangkok's noise is not that far away!
More information about this program here.
Learn while having fun? Challenge accepted up for Virtual Reality!

Virtual Reality can also be considered as a new pedagogical tool, combining learning with a real playful aspect.
The programs offered by Alliance Française also have a Mondly language interface, created to learn languages. These interactive exercises allow you to progress while having fun, which is a revolution in the teaching field. Indeed, virtual reality headsets are increasingly appearing in the classrooms, where teachers are using technology to captivate a generation of digital enthusiasts.
For more information on this program click here.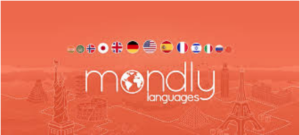 A journey into a world beyond sight

Notes on Blindness is an immersive virtual reality (VR) project which received many awards, a cognitive and emotional experience of blindness.
More informations about this program click here.
Virtual reality: a safe innovation
Virtual reality does not present any greater dangers than the use of screens and smartphones.
Occulus Go headset doesn't has to be used too often and for too long, but the same applies to the use of computers and mobile phones.
Normal use will provide you with entertainment and well-being: it's worth it!
Virtual reality: a revolution in the medical field!
Beyond the fascination caused by the experience itself, this technology can also be considered as a powerful tool for sick people and disabled rehabilitation, working both motor skills and intellectual imagination.
Indeed, virtual reality has already been used to help heal psychological trauma, but also in the rehabilitation of people who suffered physical injuries. By changing our perception of reality, this digital invention can help people with phobias, such as flying terror or dizziness, to overcome them.
As a small revolution in all fields affecting motor skills and cognitive sphere, this technology is part of a world where the future will be technological, or will not be.
Virtual Reality: an unforgettable trip for all ages
Far from reaching such extremes, this innovation remains a great way to escape for a few moments, with programs adapted to all ages and expectations. A beautiful initiative of the media library of  Bangkok's Alliance Française, which promises beautiful moments of discovery with family, as well as fascinating solo immersions.
Fantasized for decades, virtual reality seems to reach an ideal of travel in time and space, which until then had remained in the realm of illusion.
Let's put our Occulus Go on!
---
Practical information:
Virtual reality programs are available at the Alliance Française Media Library, on the 2nd floor, from 10am to 7pm Monday to Friday, from 9:30am to 5pm on Saturday, and from 10am to 1pm on Sunday.
Free for Alliance Française members, from 13 years old.
Contact: mediatheque@afthailande.org
Telephone number: 02 670 42 40